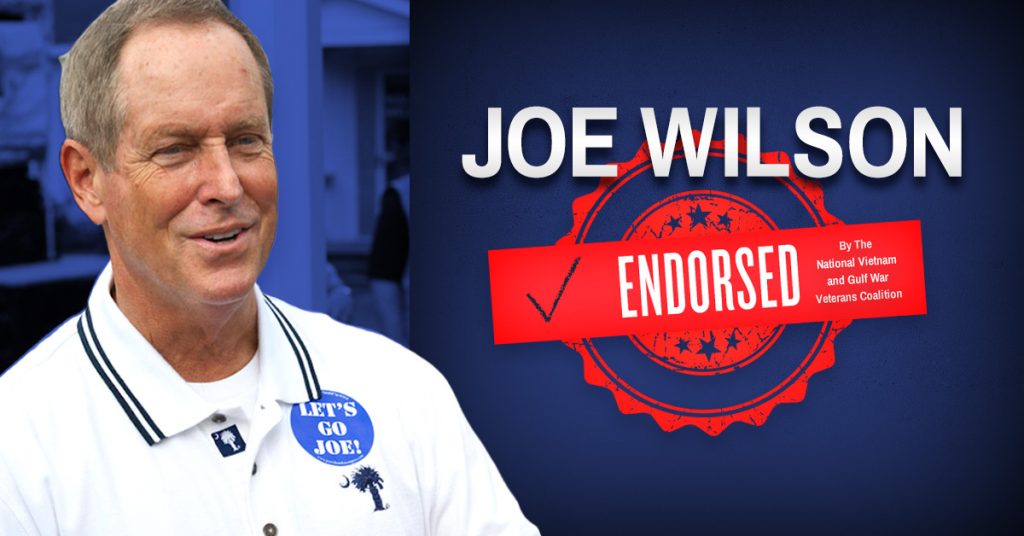 The National Vietnam and Gulf War Veterans Coalition endorsed Congressman Joe Wilson (SC-02) for his reelection on November 8th:
"Your leadership and patriotism are especially needed in the House of Representatives at this particular time in our history when our beloved country is at risk…" wrote Chairman John J. Molloy, OSJ.  "Accordingly, the Board of the National Vietnam & Gulf War Veterans Coalition was polled and has unanimously approved the endorsement of your candidacy."
"As a 31 year veteran who served in the Army Reserves and the South Carolina Army National Guard, and the father of four sons who have served in the military—including two who served in Iraq, another in Egypt, and another in Afghanistan—I am humbled and grateful to receive the support of the National Vietnam and Gulf War Veterans Coalition," Wilson said. "Each day, I fight in Congress to stand up for our troops, veterans, and military families. I look forward to continuing my work on the Armed Services Committee to protect American families from threats at home and abroad."
The Coalition consists of 70 veterans organizations and veterans advocacy groups which represent over 250,000 veterans and their families.